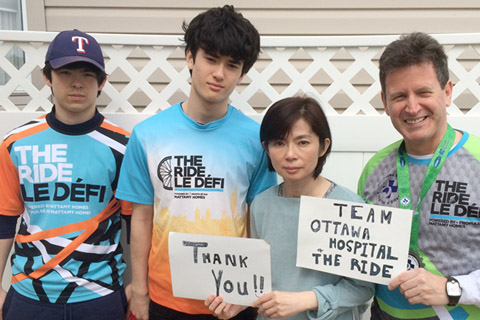 Never more dedicated than now
"I will be doing THE RIDE for the next 50 years." Those are the dedicated words of Mike Bull, who has been participating in The Ottawa Hospital's premier cycling fundraiser for the last three years.
Mike, like many, has faced cancer from many different angles. He's had family and friends both battle and beat cancer, but he's also seen too many lives lost. It's for those people that Mike returns to THE RIDE each year to support groundbreaking cancer research at The Ottawa Hospital because as he puts it: "Every year the list is growing."
On September 9, 2018, Mike will once again be cycling 117KM, but this time there will be new meaning to his adventure.
In March 2017, Mike's wife, Rie, had an aneurysm burst on the brain. It was late at night, when she collapsed in the family's home. Rushed to The Ottawa Hospital, Rie had two life threatening bleeds. She couldn't initially remember or say her husband's name or the names of their two teenaged sons. The family was shocked by the turn of events and at first, doctors didn't know if she would pull through.
However, Mike says her health-care team at The Ottawa Hospital took on this enormously complex case and thanks to their exceptional knowledge and care, their prayers have been answered and Rie is on the mend. "She spent over a month in the ICU, a month in the Neurological Acute Care Unit and five weeks in the Acquired Brain Injury Rehabilitation Centre. All staff members took fantastic care of my wife." As a part of her care, Rie had to learn English all over again, as she reverted to her mother tongue of Japanese, but doctors believe she will make a full recovery within two years.
"We have been blessed with exceptional care at The Ottawa Hospital. We are eternally grateful to the team." When they saw Dr. John Sinclair, chief neurosurgeon last July, Mike says he was so pleased and moved by Rie's recovery that he said: "You've made my day! No, you've made my week!" When they saw him again this January, Dr. Sinclair said Rie was in the top 1-2% of all possible outcomes!
After seeing the compassionate and leading edge care for his wife, Mike is more dedicated than ever to THE RIDE. And while his wife went through so much, he remains committed to supporting cancer research because of the many friends, family and colleagues who have had to face this disease.
He's also hoping to build his team this year and add a few new cycling buddies to team Enterprise. He says it's an event that is a bit addictive.
"Everybody who does the 50KM says they want to try the longer route the next year. You know, people have in their minds that this is an insurmountable goal but it's just a fun ride. The way the station breaks are set up it's not overwhelming at all."
For Mike, THE RIDE is a win, win, win for everybody. "It's doing something good for your body, for research and the community over all."
And to top it all off, he loves the experience. "You're always pumped at the beginning. The comradery is great. I do THE RIDE because it's great exercise, a fun event, and a way to say Thank You, Thank You, Thank You to the team at The Ottawa Hospital!"