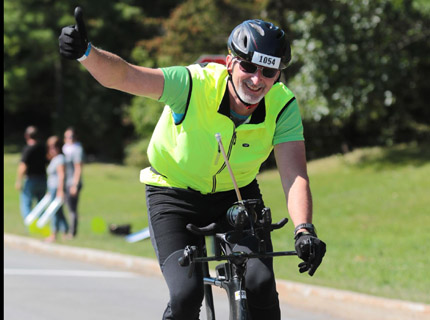 Boone's Luc DesRosiers is going the distance
Giving back to your community and society is important to me. The Ottawa Hospital is a really good cause.
Sometimes when you're a part of something year after year, you can become stagnant and lack enthusiasm. That is a stark contrast to Boone's Luc DesRosiers and THE RIDE.
The Sales Manager at Boone Plumbing and Heating Supply is ready to do something incredible for the ninth-edition of The Ottawa Hospital's RIDE for Research. He's registered as team captain of the Boone Flushers and will cycle 117KM once again on September 9, but when it comes to fundraising, he's going beyond the $750 minimum for individuals—way beyond!
DesRosiers has set a team goal of $100,000 to support cancer research at The Ottawa Hospital. It's a lofty goal but this avid cyclist and dedicated member of the community really wants to have an impact on care. This year, he's setting that bar high.
"I was looking for an innovative way to raise funds instead of just calling manufacturers I work with in the industry. There are companies we do a great deal of business with at Boone. They've always showed their support over the years when I've been fundraising for THE RIDE."
This year though, DesRosiers was ready to try something different. "Basically what I did is I called up four of our major suppliers. They are sponsoring me for $3 a kilometre from January 1 to THE RIDE on September 9, 2018."
That means DesRosiers has plenty of cycling to do. "My intent is to cycle close to 2,500 kms. But I may end up at 3,000 kms because now, at the end of June, I'm going to embark on a cycling journey from Ottawa to Quebec City and back. That will add another 1,000 kms to my total."
DesRosiers didn't wait for the snow to melt and the nice weather to arrive. He was already cycling at home as soon as the New Year arrived. "I've been cycling all winter long on my trainer. By mid-May, I was already up to 1,700 kms. I cycle with my girlfriend in the virtual-world in the winter and then cycle in the real-world in the summer."
Speaking of the virtual-world, THE RIDE, powered by Mattamy Homes, offers a Virtual Ride option for participants. This is a great way for people who can't make it on RIDE day to monitor their kilometres and cycle at their own pace, even at spin class.
There is an extra spin in DesRosiers' pedal this year when it comes to supporting THE RIDE and The Ottawa Hospital in particular. "I'm more dedicated than ever. Where does it come from? Well, some may come with maturity," he says with a smile. "But giving back to your community and society is important to me. The Ottawa Hospital is a really good cause."
It's not hard to find someone who has needed care at The Ottawa Hospital. For DesRosiers, cancer research is what motivates him. "There are so many people affected by cancer, I'm blessed every morning when I wake up to good health. I know that's not the case for a lot of people, so that's why I'm raising money for cancer research."
He adds, "There are so many other causes but The Ottawa Hospital and cancer research is the critical one for our community."
That commitment helped build THE RIDE nine years ago, when Claude DesRosiers, Luc's brother, was a key player in creating this annual cycling fundraiser. It was in fact the leadership of Claude, Robert Merkley and Roger Greenberg that launched THE RIDE and it was the construction industry that stepped up to make it the success it is today. It's this fundraiser, which provides researchers at The Ottawa Hospital with critical funds to help find answers to the most devastating diseases, like cancer, stroke, ALS and heart disease. In the past eight years, THE RIDE has contributed more than $12 million to research at The Ottawa Hospital.
Luc DesRosiers now carries the torch. He calls on others in the construction industry to join him on September 9. Maybe even consider fundraising through training, like him. And, it doesn't have to be 117kms, there's a 50km route or a Virtual Ride.
For now though, he continues to combine his two passions, cycling and giving back to The Ottawa Hospital. All coming together on the bike, which he built himself, of course.
Register today, www.dotheride.ca