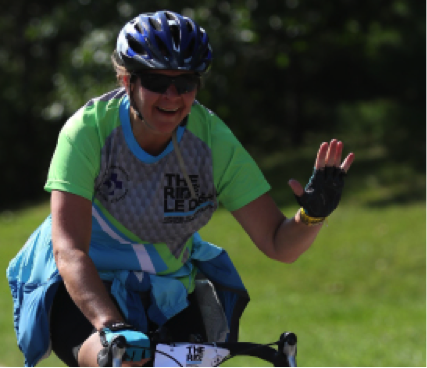 Why do 50 when you can do 117?
After surviving breast cancer Donna Jakowec did THE RIDE alone but felt every bit a part of the team.
"I was making a conscious effort to find an event." That's what lead Donna Jakowec to discover The Ottawa Hospital's THE RIDE last year.
Diagnosed with breast cancer in 2016, Donna has experienced the medical excellence and deeply personal care at The Ottawa Hospital first hand. It all began on October 18, 2016. It's still a vivid memory. That's the day when she received the news from her family doctor and her cancer journey began. Within a month, she had a mastectomy and met with her medical oncologist Dr. Mark Clemons.
"He had a plan," Donna recalls, feeling confident after the appointment. She wouldn't need chemotherapy treatment but she would require another surgery, known as an oophorectomy, which would remove her ovaries. The goal was to reduce the levels of estrogen in her body because the type of breast cancer she had was hormone driven. She would then require five weeks of radiation.
When it came time for radiation, the team at The Ottawa Hospital couldn't use the traditional form of radiation because her heart is too close to her chest wall. Instead, a specialized piece of radiation equipment had to be used to ensure her heart was protected. A piece of equipment that was purchased thanks to generous community members.
Donna said she knew her health was in the best hands. "I felt so well taken care of by so many different people at The Ottawa Hospital."
That's when she started to shift her focus from doctors' appointments to getting active again. "I started to focus on fitness because it was suggested I would benefit from increased exercise."
She turned to her bicycle. As someone who loved to cycle in the past, she believed it was a natural fit to help get her exercising again, to build her strength back up both physically and mentally. Cycling had once been a big part of her life. In fact, that's how she and her husband met. But she wanted more than to just ride, she wanted to give back.
"I started thinking, I feel really strong and I was looking for a way to give back." It was one day when she was on The Ottawa Hospital Foundation web-page; she finally clicked on THE RIDE.
"I thought, oh my gosh, it's a ride, not a race. That totally excited me." When asked what route she chose, Donna quickly responds, "Why do 50kms when you can do 117kms."
Donna took part in THE RIDE for the first time in 2017. It's a day she won't soon forgot. "To me, it really represented hope. It wasn't just about me and what I went through. It's about people like my friend who now has lung cancer."
While Donna had been an avid cyclist, she admits she never got to do much training for THE RIDE and in fact, wasn't sure she would even make it to the event. But something forced her to Tunney's Pasture last September—she was going to tackle the 117km route.
"Part of the way through I started feeling sorry for myself and then fellow cyclist, Denis, caught up with me and stayed with me for over an hour. He didn't have to because he had an awesome bike. But his support really helped."
It's that kind of support along the route, which helped Donna achieve her goal of crossing the finish line that day. As she rode down the finish chute, with cheering onlookers lining each side, her first thought was, "I can't wait to do it again."
While she rode on her own last year, Donna says she never felt alone on the route. "I felt really well taken care of because of all of the motorcycle volunteers who were keeping an eye on me. I did THE RIDE on my own and I met some great people. It's almost felt like I was on a team."
As Donna makes her plans for this year, she reflects on the amazing experience she had last year, even sharing the final lines of her journal entry from September 10, 2017: "Denis came over to say goodbye to me and gave me a big hug! I told him he was my guardian angel…then he was gone. Sweet guy. I will do THE RIDE again!"
That's the true spirit of THE RIDE. Join Donna and hundreds of others on September 9, 2018. Register today!